Hey, Ewen Chia here. LOL I know. How can making noodles be even remotely related to making money online…
Guys, it's the PROCESS not the noodles. Let me share the story…
A few days ago, my wife bought an electronic noodle maker (yes, there is such a thing!) with much excitement.
Of course, being the handy man of the house, I've to find out how the heck to make it work 🙂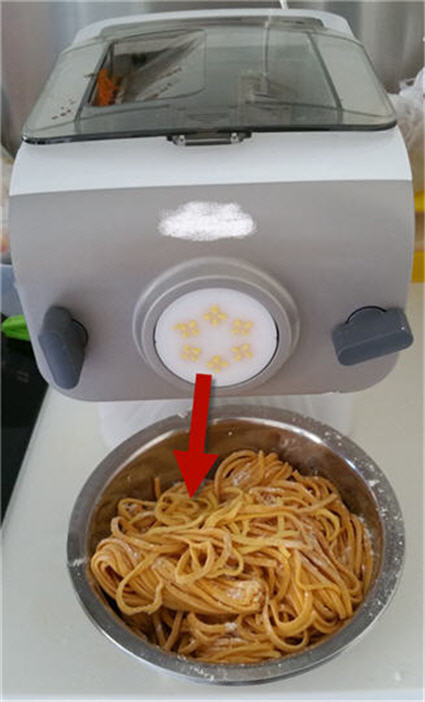 What you see above is the END RESULT, yes it worked!
So how does this has to do with making money online??
It got me thinking, A LOT apparently.
Why? Because the process is the SAME.
Now lets look at the lesson and the 3R Formula (yes I just came up with this on the spot lol) to succeed…
STEP #1: RESULTS
For whatever we want to succeed in, it ALWAYS helps to first know what outcome and end results you want to get from your ventures.
This is sometimes called "Outcome based thinking" or "Results in advance" as made popular by my friend and very smart marketer, Frank Kern.
However, to me, it just makes sense to have a GOAL in mind. Without knowing exactly what you want to achieve, you can never get there. I talk about this a lot in my "Make Millions Online" book!
Make noodles: to have great tasting, home made noodles done for you
Make money online: to make $XXXX per month!
So once we've identified the outcome we desire, we move to the next step…
STEP #2: RECIPE
In this next step, we then determine and work BACKWARDS what "ingredients" we need in order to achieve that specific end result we want. You must know what goes into the RECIPE 🙂
Make noodles: flour, water, egg, juices (optional)
Make money online: niche, product, website, traffic (example)
Now it's step 3…
STEP #3: REFINE
The dictionary defines the word "refine" as: to bring to a finer state or form
In this final step, what we want to do is to find some way to fine tune and possibly "automate" step 2 so it works like a well-oiled SYSTEM which we can follow easily.
We always want to try to make things easier by "automating" the system as much as possible. In this way, we can have more time and less stress.
Make noodles: The noodle making machine!
Make money online: Software, outsource, etc.
So as you can see, making noodles and making money online HAVE a lot in common 🙂
Hope this post gave you some good ideas on how to strategize and plan your internet business!
Talk soon,