Online Marketing Secret Number Five:
It's all about your business model.

The fastest money you can make online, in terms of how fast you can start making a full time income from your own knowledge, is often in services and consulting.
If you can find a desperate market that needs a certain type of service or advice, you can make immense amounts of money, because as many gurus will tell you, whatever price people will pay for how-to information, is only a tenth of what they'll pay to have you do it for them. Some people who offer services online are often able to get clients within days of opening their online doors.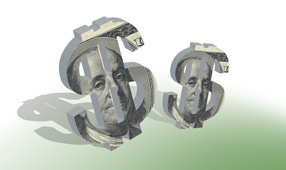 The problem with this, of course, is that you're then limited by the amount of time you have each month.
There are only so many hours in a month. And if you book yourself solid, even with referrals from happy clients, you'll still have an upper limit to how much money you can make. Increasing your rates would make you more money, but you'll still have an upper limit to your income.
An easier model is to create, mass produce and sell your own informational product. Easier to make, easier to serve multiple people at the same time, and the only restriction to your income is how well you market.
It's still not the best model of an internet business. For the best model, you'll want to create a method of creating a satisfied client who will keep paying you over and over.