I haven't been writing for awhile because I've been trying to find myself. Trying to live a purposeful life that I WANT can be difficult at times.
There're so many things that I want to do but there are limitations as well. Sometimes I wish I could fly away but we've responsibilities to other people besides ourselves, for example, family.
I know I may not be making sense because I'm in a pretty pensive mood.
However, within our limitations and with what we currently have now, count your blessings and give thanks.
Cherish whatever we have and live with purpose and passion.
Many of us work our lives off, trying to make a living. Fact is, life is more than money and money will never be enough.
Wealth and happiness comes to those with the correct mindset. The correct mindset will attract what we secretly desire.
IT ALWAYS STARTS WITH YOUR MIND AND KNOWING EXACTLY WHAT YOU WANT!
I believe I've mentioned this before, we need to know what we want to attract it.
Obviously we can also attract negative things and that starts from thinking of the negative, which we tend to do naturally.
So we must be consciously positive at all times, even in the face of problems.
Look at it this way, we'll always have problems and they will never go away, so make the best of it!
I know it's easier than it sounds. Trust me, I know.
One way I've found to be positive is to give myself some space and care. Meaning, thinking of myself for once.
I do that by pursuing what I love aggressively and with a goal. Be it a person, topic or simply a hobby.
Many of you know I love music. It heals the soul and connects people from all walks of life and nationalities.
If there's ONE thing that brings the world together, it's music.
Music has been with me since I was young. In fact in my younger days, I used it to escape to imaginary faraway places.
Listening to all types of songs and closing my eyes helps to relieve the realities of the real world, even for a moment. It's re-energizing.
Music is often positive in nature so I believe it's one of the best ways to cultivate a positive mentality!
While I was growing up, I was a quiet, introverted, romantic and extremely dreamy person. No one really knows my true feelings, including myself.
The good part was, I'm also always an action taker.
I needed a way to express my emotions and took to music. Unfortunately I never had the chance, environment or money to learn it correctly while I was growing up. I've always envied kids who could learn music. I had to teach myself, which didn't help.
Since I've more time now, I've decided to pursue the love of creating music which I've stopped for 10 years since discovering the internet.
I've even started professional music training and bought myself a grand piano just to prove the point!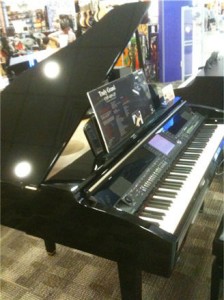 And for the first time since I was 27 years old, I wrote a new song…it's a love song.
I will probably release this soon and hope to get good comments from you guys.
…Stay tuned!
We all have our own dreams and aspirations. I encourage you to strive for your dreams just like I'm doing. We only have one life.
Songwriting and being a professional performer is one of mine, since I was young.
One day I'll even record a music video and maybe turn into a Youtube star 🙂
Because secretly in my heart, I want to be a rockstar!