Happy 2015! Wishing the best for you and your family this year.
I also thought I'd write this post for you so that you can succeed online for sure…
In fact, if you act upon the information here, YOU WILL SUCCEED.
You see, here's the reality and this will probably hit a few hot buttons…
With the vast number of diffferent business models, methods and products available online today to help you start an internet business and hopefully make money online…
I'll be as LOST as many of you if I was just starting from scratch!
I do get it.
I do see your point.
That it's not easy at all.
You know what?
It's time for a huge WAKE UP CALL!
Why? Because apart from the direction you need and the many choices you've to make, a HUGE cause of failure has everything to do with…
YOUR OWN ATTITUDE, MINDSET AND ACTION.
Seriously.
Meaning, you. Yes, you and only you, are responsible for your own success or failure, not anyone else, not me, not them, but you.
Like it or not – the truth can hurt. This is going to sting but it needs to be said especially at this time.
Remember (and I'm not necessarily referring to anyone in particular but)…
Losers complain, whine and blame others. Winners just DO whatever it takes to succeed, with NO excuses.
Now before you go yelling at me, let me explain…
Most people do NOT think and do what is required. It's too hard work.
What? Think and do? What's that??
Thinking about your plan and goals – and acting on them to make them real.
Look at your options and decide your path.
Then write out your PLAN and goals and apply them.
That's all that matters.
Without a plan and goals to drive, motivate yourself and act upon, no products can help you.
It doesn't have to be a 500 page business plan, just something simple to tell yourself what you want to achieve in a certain time period.
I suggest you read my book "Make Millions Online" immediately if you haven't yet.
Really read it, take notes and THINK about it.
Here's why…
It will give you the direction and plan.
With the benefits of hindsight and experience (after spending 17 years online and making millions of dollars for real) let me tell you what's working for me…
My biggest success comes from…
BUILDING AND MONETIZING MY OWN EMAIL LIST.
It's funny, sometimes when you tell it like it is, many people still don't "get it" and continue chasing shiny objects everywhere.
Or they complain they can't do it because they lack the skills and knowledge.
Go get the skills and knowledge then!
Who's stopping you?
Yourself.
Listen, let me say it again…
My biggest success comes from…
BUILDING AND MONETIZING MY OWN EMAIL LIST!
Get it?
All successful marketers stick by this. Doesn't matter if you've just started, thinking of starting or have done this for years…
THIS IS THE SECRET TO MAKING REAL MONEY ONLINE AND IT'S NOT GOING TO CHANGE ANYTIME SOON.
Whether in 2015 or beyond. In fact, it's going to be even more important in the future.
Get it?
Get it??
Get it???
It's what you've probably been searching for, heard about it but didn't register before.
Well take your time, it took me 5 years to "get it" way back then (but now I'm providing you with an instant "short-cut" to success by telling you this!)
Once I did get it, took action and DID what I was supposed to, I became wildly successful!
And you know what?
YOU CAN DO IT TOO!
I encourage and challenge you to do so.
So let me repeat (again), the "secret" to making real money online, even millions, is simply by…
BUILDING AND MONETIZING YOUR OWN EMAIL LIST.
Once more, read my book to get the full picture, there's way more explanation there as to why it works and HOW it works.
Now the question is…
If you want to build and monetize your own email list, how the heck do you start?
You need to understand the BIG PICTURE first and what you need…
(By the way, I love big pictures as it helps you know what you're doing. I coined my own term for it called "Big Picture Marketing" :-))
Here's the big picture to help you build and monetize your list: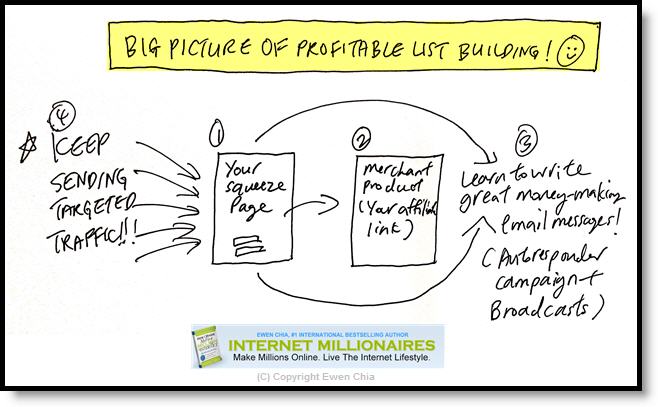 May take some time to decipher as my writing and drawing is not the best.
But this is the simplest way to do it so you can build your list and make money at the same time.
Here's what you need, this is what I call a "money-getting" formula…
1. SQUEEZE PAGE
A squeeze page is simply a ONE page website whose only objective is to get prospects' contact information or email addresses…
Keep it simple. It can be ugly and still make millions.
No distraction or other ads.
JUST GET THEIR EMAILS.
2. OFFER
You need to sell a product to make money, it can be your own or a merchant's product.
To keep it simple, it can be a merchant's product (affiliate marketing) so you just need to redirect subscribers who optin from your squeeze page to your affiliate link!
You can promote an affiliate offer that pays you $20-$50 per sale, or one that has the potential to earn you up to $5,000 a sale.
Which makes more sense, especially if it takes the same effort to promote either one? As I said in my book, making high commissions is a much better option, all things being equal.
3. EMAILS
You MUST learn to write great, money-making email messages that SELL.
You can write a series of them and presave them in your autoresponder campaign, and also send email broadcasts to your list of subscribers.
4. TRAFFIC
Master a few traffic strategies to promote your squeeze page…
Keep sending traffic so you grow your list and make money daily!
Oh yes, you need a PROFESSIONAL autoresponder service so you can capture, store, manage and email your list. I recommend Autorespond.com (it's what I use).
These 4 components that you see above make up what's commonly known as a MARKETING/SALES FUNNEL.
If you had heard or read of that phrase before, that's what it means.
Go get the necessary skills and knowledge to do all the above WELL.
Become a MASTER at building and monetizing lists.
Become an EXPERT in creating proven marketing funnels that captures prospects and turns them into customers.
Here's an example of one of my million dollar marketing funnels:

Creating such a marketing funnel isn't something most people can do overnight.
In all honesty, it will probably take A LOT of effort, time, testing and experience – but it will be worth it.
An option is to outsource the creation to experts, if you have the money!
It will realistically cost you at least $5,000 for a custom marketing funnel like what I have…
Or you can get it FREE…
I've a time-sensitive option for you to have your own complete and custom marketing funnel designed, created and set up entirely free. It's the whole works and something you own and earn from FOR LIFE.
You can click here to see if it's still available if you're interested…
Anyway, once you've mastered the "secret" I shared with you today, you'll NEVER be short of money again because you can make your own money online. Seriously.
And that's a real promise.
It works in almost every niche and business model online by the way.
By the way, you may or may not know, but one of my most popular products, "Autopilot Profits", teaches you this "secret" in a lot more detail, plus give you tools and more, including a quick 5-minute set up that you can start with immediately.
Hope you enjoyed this post and wishing you a prosperous 2015!